The Gravestone
In the heart of Staffordshire at the centre of the UK is St Margaret's Church. In the oldest part of the graveyard lies a slab of stone that from afar seems no different to the rest—until you look closer and realise that the engraving is quite unique.
The grave of Sarah Smith holds evidence of her murder. Engraved on the stone is not just how she died, but an accusation of who killed her all those years ago.
We take a look at the clues that she left us and investigate who killed her.
Early History of Wolstanton
Rykeneld Street, the Roman road which ran from Chester to Derby, runs through Wolstanton.
Wolstanton is mentioned in the Domesday book as:
WOLSTANTON. Earl Algar held it. 2 hides, with its dependencies
In lordship 2 ploughs;
14 villagers and 2 smallholders with a priest have 8 ploughs.
Woodland 1 league long and 1 furlong wide.
Value before 1066, 100s; now £6
The priest mentioned in the Domesday Book belonged to St Margaret's Church, which has sections that date from the medieval times. Parts of the church were rebuilt in 1623 and then again in 1860.
In the time Sarah Smith lived, Wolstanton was a small, rural community. Neighbours knew each other, they knew each other's business. Which makes this mystery all the more intriguing. Did Sarah know her murderer? Did everyone know who it was even with the name blanked out?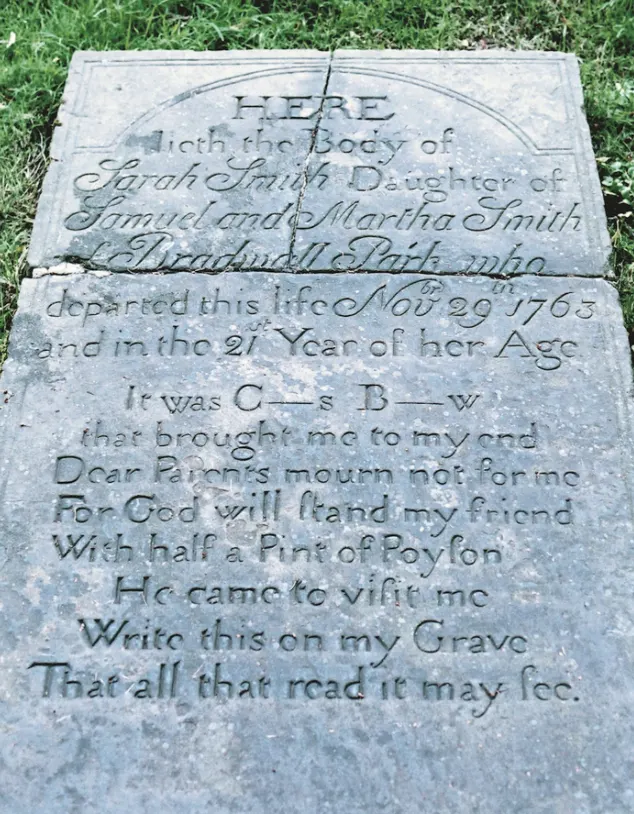 The Worn but Legible Gravestone Carving Says
HERE
lieth the Body of
Sarah Smith Daughter of
Samuel and Martha Smith
of Bradwell Park who
departed this life November 29th 1763
and in the 21st Year of her Age.
It was C-----s B----w
that brought me to my end
Dear Parent mourn not for me
For God will stand my friend
With half a Pint of Poyson
He came to visit me
Write this on my Grave
That all that read it may see.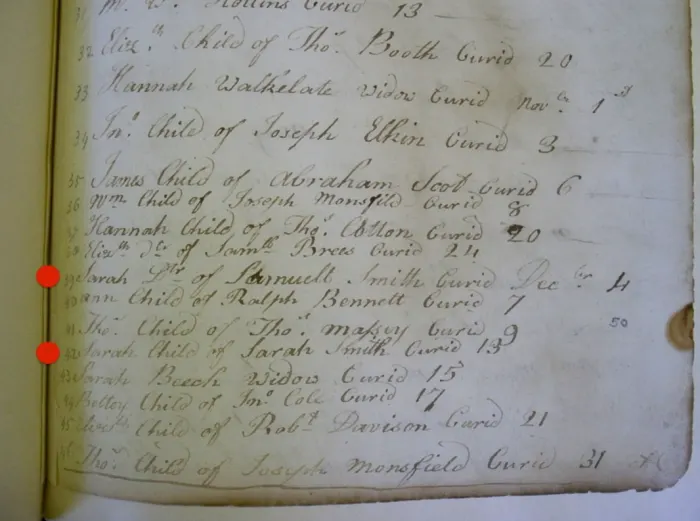 Records of Sarah Smith
The fact that the name is engraved on the headstone suggests that Sarah made the accusation on her death bed.
A few surviving records may provide answers. The priest at the time was Reverend Edward Sneyd. He was a part of the wealthy and powerful Sneyd family. It seems very unlikely that the headstone would have been allowed without his approval. Does this mean that he knew the killer?
The parish records from the time show Sarah Smith had a child that also died shortly after she did on the 13th of December 1763. However, there is no record of a father for the birth so the child was probably illegitimate. Was this a motive for her murder?
This may also be the grave for both mother and daughter as there is no record of where the younger Sarah Smith was buried.
Has the Murder Been Solved?
Although there is no evidence that anyone has ever been caught or prosecuted for the murder, local historian Jeremy Crick spent three years researching the local records and may have found the killer.
Parish records show that someone with a name that matches the accusation on the stone lived nearby and may have had the motive to kill Sarah.
Charles Barlow, the son of a wealthy landowner, he was six years older than Sarah, but she was just a neighbouring servant girl, so how would they have been linked? Well, it seems there is speculation that Charles Barlow may be the father of the illegitimate child that Sarah Smith had.
It is more than possible as Charles Barlow was the tenant of New House Farm, which was only half a mile from Bradwell Park, where Sarah lived. He is the only man in that period of time that fits the accusation with his name and location both linking him to the murder.
Did Charles Barlow get Sarah Smith pregnant and kill her to avoid the scandal? Was he wrongly accused? We will never know why she was murdered or who it actually was, but he does fit the bill.
Grade Il Listed Status
Although we may never know what happened to Sarah Smith, nor who actually committed the murder, it is fantastic that over 250 years later, we still have the gravestone with its cryptic message to enthral us.
Our local history is important for us and for future generations. So it is wonderful that the grave slab of Sarah Smith has been Grade II listed, which means it is now protected.
Reasons for Designation

The grave slab of Sarah Smith, who died in 1763, is listed at Grade II for the following principal reasons:

Historic interest: * for its highly unusual and poignant epitaph which records the infamous and tragic circumstances surrounding her death.

Architectural interest: * as a good example of a mid-Georgian monument which, despite some damage, survives in its essential form with a legible inscription.

Group value: * with the Grade-II* listed Church of St Margaret.

— Historic England
Do You Think Charles Barlow Murdered Sarah Smith?
---
If you like what you have read, please feel free to support me by following and signing up for my newsletter and/or buying me a coffee!
Thank you.
If you are interested in the history of Wolstanton, then check out this book on Amazon.