There are always rumours of tunnels. The thought of a hidden subterranean world beneath our feet is always intriguing. Unfortunately, most of these rumours are simply not true.
On this occasion, however, they turned out to be real—but they aren't quite tunnels.
The History of Abbey Hulton
Abbey Hulton is a well-known council estate in Stoke-on-Trent, Staffordshire. But part of its rich history was almost forgotten.
The first record of the area is in the Domesday book of 1086–87, where it is recorded as Heltone, in Pirehill Hundred, held by Robert Stafford. It was recorded as having three villagers, three smallholders and one plough, with woodland.
In 1223, Henry de Audley, a local nobleman, donated a large amount of land for a Cistercian Abbey to be built. Named after the area of Hulton, which is derived from 'hilltown' or 'Heltone', the addition of Abbey is how the modern area earned its name.
The abbey was not wealthy; compared to other grand abbeys of England, it was relatively small and poor. The main income came from agriculture, such as raising sheep, and a tannery to make leather. The abbey was dissolved in 1538 and its lands were sold.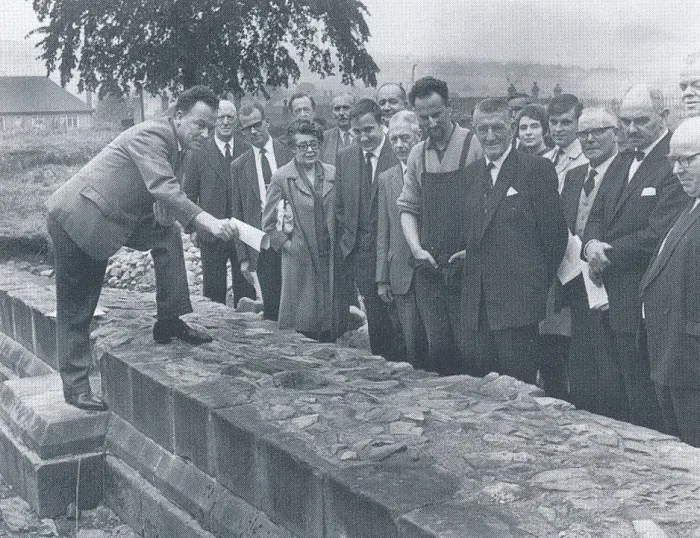 Modern Discovery of the Abbey
After the dissolution, the monastery fell into disrepair and the stone was taken and used for other building work. The land was then owned by Carmountside Farm and was used for agriculture. It was in 1884 during drainage works that the abbey was rediscovered.
There were small-scale excavations of the abbey after the discovery, but the main excavations were between 1987 and 1994. There have been many interesting and historically important archaeological findings at this site.
If you would like to read more about the abbey, see the entry on Historic England's website.
Carmountside Secondary School
In 1938, the site was mostly built over with the construction of Carmountside Secondary School, also known as Carmountside Junior High School.
The school was demolished in 1987 and is now a public open space.
Abbey Hulton in World War II
Abbey Hulton and the surrounding areas were occasionally accidental casualties during the bombing in WW2.
There were places nearby that the Germans tried to bomb unsuccessfully, leading to bombs being dropped on nearby residential areas. The Aluminium Works at Milton was one target; Shelton Bar in Etruria was another.

The UK government was prepared for an aerial bombardment. They had to protect the general public, so air raid shelters were constructed. There were a few different types of shelters.
Types of Air Raid Shelters
Anderson Shelter: Designed to accommodate up to six people, these were given free to low-income families. The earth gave some protection from bombs and debris.
Morrisson Shelter: A cage-like construction to be used in homes in cellars.
Brick-Built Shelter: Built in gardens and partially below ground, they had reinforced concrete roofs.
Stanton Type Shelter: Manufactured by the Stanton Ironworks Co. Made from concrete arch-shaped units bolted together. Steps at one end and an escape hatch at the other.
Air Raid Shelters for the School
During the war, the biggest priority of the school was to keep the children safe, so they constructed three separate Stanton Type air-raid shelters on the grounds of the school.
Each of these shelters was sunken into the ground between 1.5 and 1m. Each shelter was around 9m long and 2.3m wide. They were constructed out of concrete, with steps at one end for the children to enter and an emergency escape hatch at the other end with a metal ladder.
These three shelters are still visible in aerial photographs taken in 1963 and 1974. Luckily there wasn't much need for the shelters and they were only used seven times during WW2.
The War Years

On 17th September 1940 at 3:20 pm, the school had its first air raid warning. The School Log reports that 'all children were in the shelter within one minute'. During the next 6 months, there were a further six air raid warnings. Gas mask inspections started on 4th July 1941 and continued frequently.

— Carmountside Primary School 75 Glorious Years 1935–2010
Inside the Shelters
I always knew the shelters were there, although for a long time I did not know what they were. I remember as a child, I used to explore one of them but then they were sealed up and long forgotten. So I recently started to research them and found a fantastic geophysical investigation that had used ground-based physical sensing techniques to see if the structures were still there.
The top of the concrete escape hatches are still visible, but it was great to know that they hadn't been filled in.
We were very lucky to have been able to access one of these air raid shelters and to photograph and record it. The inside of this particular shelter is in great condition. There has been no collapse, and the structure is sturdy, although the ladder to the escape hatch is rusted and twisted. The steps at the back have been filled in but are still there.
The other two shelters are still inaccessible, but hopefully one day we will be able to see inside them.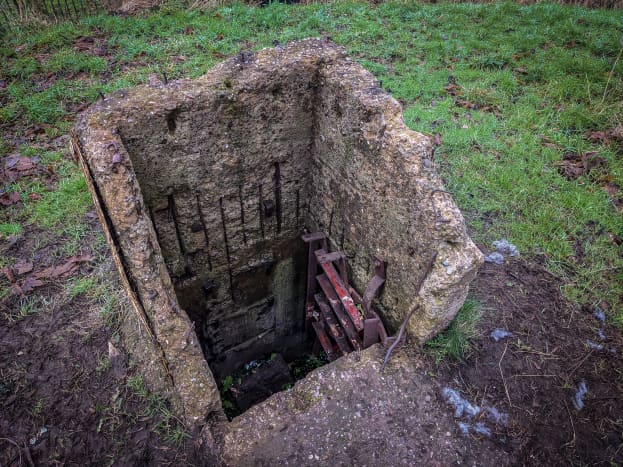 Protect Our Heritage
It seems a shame to me that these wonderful nuggets of history are just hidden below the ground. They are right next to another piece of our wonderful heritage—Hulton Abbey. Two of them actually fall within the bounds of the Scheduled area of the ruins. So it would be fantastic to see them dug out, made safe and opened to the public. Another bit of local history was awakened and conserved.
We should be protecting our modern historical structures just as much as our older ones. Home-front sites are just as important as other wartime sites around the world and are just as interesting. At least one of these structures is in very good condition considering how long it has been left underground.
---
Do you remember these shelters?
Do you have any memories of these air raid shelters? Did you go to Carmountside School? Did you explore them as a child? If you have any information or memories, I would love to hear from you.
---
If you like what you have read, please feel free to support me by following and signing up for my newsletter and/or buying me a coffee!
Thank you.
If you are interested in the history of Abbey Hulton, then check out these books on Amazon.