A History of Coal Mining in Stoke-on-Trent
Coal and Ironstone have been mined in Stoke-on-Trent from as early as 1282 and continuing right up to 1998. The city sits upon the North Staffordshire Coalfield, which is an area of nearly 100 square miles, the majority of it underneath Stoke-on-Trent and Newcastle-under-Lyme.
The Industrial Revolution created a huge increase in the demand for coal as did the local pottery and iron industries, meaning that Stoke-on-Trent became one of the UK's biggest suppliers of good quality coal. Up until the mid-19th century mining was relatively small-scale, with private pits being sunk. However, increased demand meant that large companies took over and began to sink deep pits to increase output.
On the 1st of January 1946, the collieries were nationalised under the National Coal Board (NBC). This helped the working conditions to be improved, which meant the miners' health also improved.
Coal Fields of North Staffordshire
Forgotten Beneath Us
There are over 8000 disused shafts and over 200 abandoned adits recorded. There are also many ancient works that were used and abandoned before records began. Add to these a huge and intricate web of tunnels beneath the city and you start to realise what a problem this causes.
Subsidence has been an issue in Stoke-on-Trent for many years, and it will for many to come. It is caused by the miles and miles of abandoned mines and tunnels that have not been filled in causing collapses as the supports rot away, causing the ground above to sink. Water is another issue. Water had to be pumped out of the mines to enable the extraction of the coal, but as the mines have been left unused, the water level has risen again and is causing erosion and further subsidence.
A Map of Known Mine Entrances Across Stoke-on-Trent
💡
Mining Subsidence in Stoke-on-Trent Being Discussed in the House of Commons - 31 July 1953

We fear that unless early action is taken Stoke will not be Stoke-on-Trent but, within the next 50 years, will become Stoke-under-Trent. I was privileged to raise this matter first about 1936. Since then, let me admit, we have made some progress. We now want this question to be treated as a matter of extreme urgency, and that is why we want to place on record some evidence that demands early investigation.

— Mr Ellis Smith, councillor for Stoke-on-Trent South in Parliment 1953

Mr Ellis Smith, councillor for Stoke-on-Trent South in Parliament 1953

Here are just a few facts. There has been flooding in Fenton, Longton and Hanford, and my hon. The effect of the subsidence on the Trent, on our sewers and on our brooks has been simply terrible. The Fenton low area, in the centre of my division, during the past 20 years, due to subsidence, has been lowered 20 feet. During the next 20 years, it will be lowered a further 16 feet. That means 36 feet of subsidence in less than my lifetime.

— Mr Ellis Smith, councillor for Stoke-on-Trent South in Parliament 1953
A Map of Developmental High-Risk Areas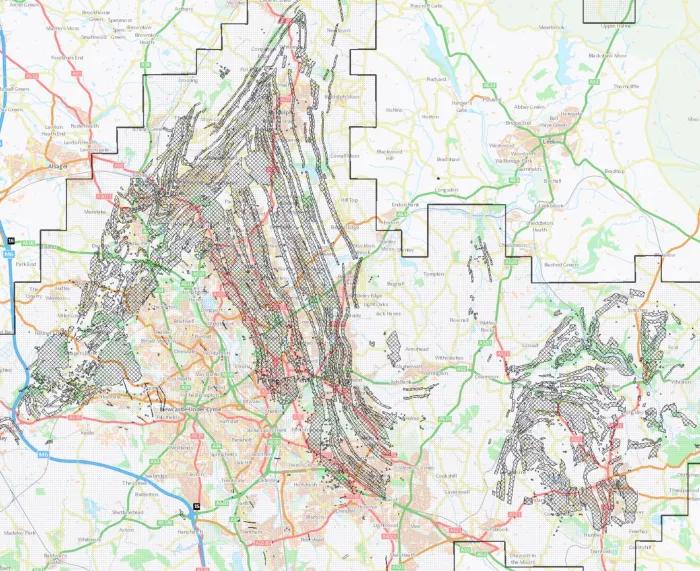 Differential Interferometry of Stoke-on-Trent
Data from a Measurement of ground movements in Stoke-on-Trent (UK) using radar interferometry shows that from 1992 to 2004 the centre of the city sunk by over 8cm. And that's just in that short period of time.
As the tunnels and mines collapse, the ground will keep moving and sinking over time. Add to this the natural faults and there is still much movement to come.
💡
Measurement of ground movements in Stoke-on-Trent (UK) using radar interferometry MARTIN CULSHAW1 , DOUG TRAGHEIM2 , LUKE BATESON3 & LAURANCE DONNELLY4

Fault reactivation is associated both with active mining and with the post-mining period as the ground stabilises and mine water levels recover. Donnelly (1994) and Donnelly & Rees (2001) have studied this in the Potteries and have recorded substantial ground movements of many hundreds of millimetres.

— Measurement of ground movements in Stoke-on-Trent (UK) using radar interferometry
A Map of Areas That May Be Affected if Subsidence of the Mine Entry Was to Occur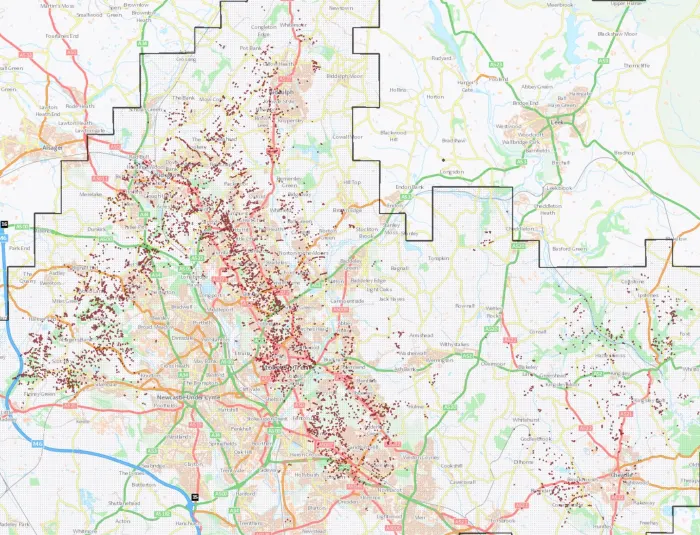 Sinkholes, Subsidence and Collapses
There have been many instances over the years of underground collapses causing issues.
In 2019 a large sinkhole appeared in Boatman Drive, Etruria
A sinkhole opened up in Burslem Park in 2020
In Smithpool Road, Fenton a sinkhole appeared in 2021
Kirk Street, Smallthorne had a sinkhole in 2021
Barlaston Church had to close in 1981 because of serious damage due to mining subsidence
A mine collapse drained the lake in Tunstall Park in 2013
A 40-foot sinkhole opened up near a closed drift mine in Hayling Wood, Crackley Gates, Newcastle in 1999, less than half a mile away another one was also found.
There are many recorded examples of issues caused by subsidence but probably the most well-known story is that of Thomas Holland.
Thomas Holland
The Death of Thomas Holland
At 7 am on Saturday the 3rd of December 1903, Thomas Holland 56, a candle maker, was walking to work from his home in Mount Street, Northwood. His walk took him through the then-busy streets of Hanley to Swan & Parker on Charles Street. As he was walking along St John Street a sinkhole suddenly opened up and he fell straight in.
At that time St John Street was a busy thoroughfare and there were lots of people that saw the incident. Help quickly came but they couldn't see the bottom of the hole nor could they hear Mr Holland. As the rescue attempt got underway they found that they couldn't descend into the hole as it was full of poison gas. Unfortunately, they had to abandon the rescue attempt.
An enquiry into the accident found that the hole was actually a pit shaft that had been owned by a local hall and had been closed for over 40 years. At the time of closure, the pit had been covered with timber and forgotten about. The wood had rotted away over time and collapsed. The shaft was 121 feet deep.
Because they couldn't recover Mr Holland's body, they held a funeral at the site of the accident and then sealed it up with him still inside.
The Sinkhole in St John Street, Hanley, 1903
Have You Been Affected by Old Mine Workings or Subsidence in Stoke-on-Trent?
Or do you know any local stories? If so I would love to hear from you, feel free to either comment below or e-mail me.
---
If you like what you have read, please feel free to support me by following and signing up for my newsletter and/or buying me a coffee!
Thank you.
If you are interested in the history of coal mining in Stoke-on-Trent, then check out these books on Amazon.
Down at the bottom here I am going to shamelessly plug my clothing company Weird Horse Apparel!

There are some weird and wonderful clothing designs available and even some Stoke-on-Trent designs!

Take a look!